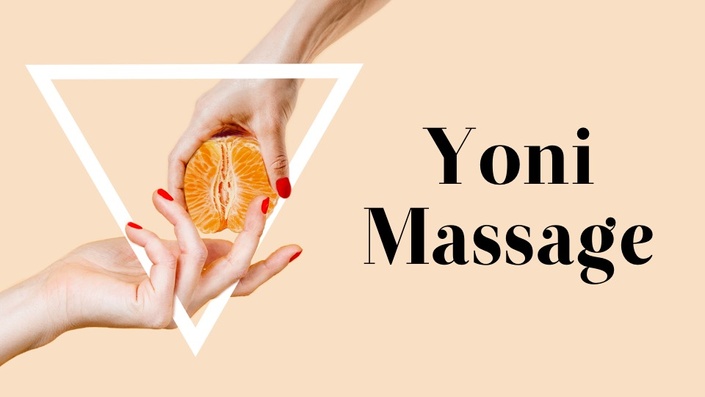 Yoni Massage
Do You Desire Mystical Pleasures And Deep Connections? Learn To Give And Receive Yoni Massages!
Enroll in Course
Are you ready to unlock the mystical pleasures of giving and receiving Yoni Massages?

Do you want to support your partner on the road to ecstasy, multiple orgasms, or the healing of traumas?
Yes?! Then join my Yoni Massage online-video course, where you'll learn everything you need to know to connect more deeply, evoke new orgasmic pleasure and launch a new era of your sexual life.
Yoni Massage is a very intimate and healing encounter between two beings. Not necessarily a sexual one.
After experiencing the life-changing potential of Yoni Massage myself, I'm super excited to be sharing my knowledge. I've put together step-by-step video instructions, which will help you and your partner to experience sexual evolution yourself. Fasten your seat-belts, because there are exciting times ahead!
Why I think every woman should experience regular Yoni Massages
I wouldn't be where I am today without the powerful experience of Yoni Massage. Today I am a sexually confident woman, having great orgasms on a regular basis; I feel more and I know what I want. That wasn't always the case.
In the past I had a tendency for frigidity, and sexual encounters were more for the benefit of my partners than for my own pleasure (let alone spiritual evolution!). I didn't get much out if it. I felt numb. I was disconnected. Sexually sad.
Yoni Massages awakened my pussy. Yoni Massages awakened my spirit.
I realized that, in a similar way to a stiff neck, a pussy needs attention and massages too. Many pussy owners store a lot of emotional tension inside their vagina. When we don't take care of those tensions, the pussy tends to become numb over time. I found that the best way of releasing this tension is through the practice of Yoni Massage. Afterwards you feel holistically relaxed and fulfilled, totally at ease and deeply connected, with your self, your sexual self and your partner. A Yoni Massage syncs us right into our body and fills us up with lots of nourishing energy, for both the giver and the receiver.
What you will get out of this journey
This course is suitable for couples, as well as for individual Givers and Receivers who want to dive into deeper levels of human sexuality and pleasure.
This is what we'll be experiencing
I will take you on an empowering journey. You will learn all you need to know about practicing Yoni Massages.
We'll start at the beginning by explaining the most important fundamental concepts
I'll guide you through setting up the space.
We'll go into details about how to prepare for the Yoni Massage, warming up the physical and energetical aspects of the giver as well as the receiver.
I will teach you Pussy Shiatsu - External and internal massage of the Yoni, in ways that you haven't seen before.
We'll talk about how to find and how to stimulate the G-Spot. This may or may not include female ejaculation (squirting). It's exciting in any case :)
We'll go even deeper - literally. Cervical orgasms are very mystical, and only Tantrics and Taoists seem to know more about them. You'll be introduced into those esoteric practices.
We'll look into the spiritual and meditative effects of Yoni Massage. They can be used for healing, spiritual evolution, and also for the sake of pure joy.
Wait - what is a Yoni Massage?
Yoni (pronounced Yo-nee) means, 'holy temple or space' in Sanskrit. Yoni Massage refers to a traditional Tantric practice of massaging the pussy. It's a dedicated practice that is intimate and deep but not necessarily sexual.
The main benefits of Yoni Massages are:

Receiver: developing deeper orgasms (or orgasms at all!)
Giver: connecting more deeply to your partner, and ramping up your lover- skills
Connecting more deeply to your own sexuality
Sexual healing and overcoming traumas
Increasing awareness for more body sensations & pleasures
Establishing a Heart-Yoni Connection
Deep connection between the Giver and the Receiver
Abundant amount of energy that manifests in all parts of your life.
Your Instructor
Mariah Freya is a sexual empowerment coach and founder of Beducated.com. She opens up the topic of sexuality in all its diversity. Mariah has a powerful global mission: Changing the world with Conscious Sex, one orgasm at a time. Her deepest desire: Liberating sexuality from below the belly button up, and helping the individual grow through pleasure into fulfilment; she sees her role as one of promoting sexual consciousness and helping humanity to plug into their soul desires to turn them into action.
If you have any questions send me an e-mail to [email protected]
Course Curriculum
Welcome
Available in days
days after you enroll
Module 2: Female Sexuality
Available in days
days after you enroll
Frequently Asked Questions
When does the course start and finish?
The course starts now and never ends! It is a completely self-paced online course - you decide when you start and when you finish.
How long will I have access to the course?
How does lifetime access sound? After enrolling, you have unlimited access to this course for as long as you like - across any and all devices you own.
What if I am unhappy with the course?
I would never want you to be unhappy! If you are unsatisfied with your purchase, contact me in the first 30 days and we will give you a full refund.
Does this work on my computer/tablet/phone?
Yes, this course works on any device that has a web browser. All you need is internet access that is capable of streaming videos. That means it works great on smartphones (iPhone, Android and more), tablets, laptops, etc.
Is this course for men or for women?
It is for everyone.
I'm using the terms "Giver" and "Receiver" throughout the course. It's not important which sex the giver is. As it is all about the Yoni, this course assumes that the receiver has a vagina.
Is this course for couples only?
No! The course is for singles and couples. In fact it's great for couples as you can start right away, and I recommend that the giver as well as the receiver watches the classes.
If you are a giver without a partner, or want to surprise your partner, this course will do a great job as well. Just make sure you introduce the future receiver to the concept of Yoni massage, before you go ahead. For singles it's a wonderful practice for evolving your skills as a lover. It's quite different from a normal sexual encounter.
Is there nudity involved? How do you demonstrate the juicy parts?
Yes - one course video consists of showing a Yoni Massage on a model. Including nudity and depiction of her intimate areas. Therefore this course is not suitable for minors.
In the other, more theoretical videos I am demonstrating the most important concepts with the help of sex toys, anatomical models, and I also include some clothes-on advice on which positions work great for what.
Is Yoni massage a sexual act?
It is an intense practice for the giver - not only for the receiver. The energetical effects and healing benefits can be remarkable for both. Traditionally Yoni Massage focuses on healing. Yoni Massage does not include penile penetration. And Yoni massage also has a strict separation between the giver and the receiver - meaning that the giver is usually not being stimulated sexually.
Furthermore, many things that you learn in this course can also be applied in a sexual encounter. You learn a lot about female sexuality, which will automatically lead to better experiences, also outside the traditional Yoni Massage.
"Mariah is such an expert in what she does that every woman who is thinking about buying a new dress to feel more like a goddess, should receive coaching from her instead."
- Sarah, 31, Germany
"Mariah is a wholehearted intimacy coach. She has a deep understanding and knowledge of sexuality & orgasms in particular. She communicates this so well that it helped me to unlock hidden desires and remove shame."
- Sarah, 32, UK
"Mariah makes sexual topics sound free, safe, exciting, a gift, non threatening, liberating, positive: words which I never associated with sex."
- Tamara, 25, Canada

Join the Yoni Massage course today and have life-long access to a precious knowledge base showing you in easy steps how to practice Yoni Massage on your wife, partner, lover, client, or future love or romance.
Understand the power of this practice and dive into a new realm of mystical pleasure and deep connection!